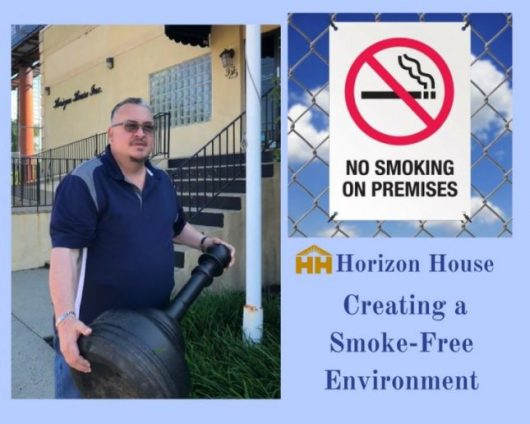 Beginning June 30th, 2018, Horizon House adopted an agency-wide smoke-free policy.  This means that staff, visitors, and the people we serve are not be permitted to smoke or use tobacco products on all Horizon House sites; our buildings, grounds, or parking lots.
Horizon House believes that we have an obligation to promote health and wellness for the entire Horizon House community. Given the negative impact of tobacco use on everyone's health and wellness, we are dedicated to being a tobacco-free agency.
During the next months we will provide support, resources, and tools to those who choose to smoke, and anyone who is interested in quitting.  Horizon House has invested in training our staff to help support the efforts of those who want to quit smoking, regardless of their role at the agency.
Promoting health and wellness here at Horizon house is what we do.  We support our staff and the people we serve with ending the use of tobacco products in our agency and are committed to helping all those who want to eliminate tobacco use from their lives.