29th Annual Horizon House Golf Outing Classic,
In Honor of Dr. Larry Real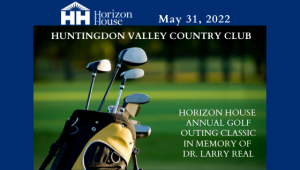 Tuesday, May 31, 2022
Huntingdon Valley Country Club
Huntingdon Valley, Pennsylvania
Horizon House is proud to host its 29th Annual Golf Outing, In Memory of Dr. Larry Real. This year's outing will take place on Tuesday, May 31 at Huntingdon Valley Country Club in Huntingdon Valley, Pennsylvania.
Golfer registration and sponsorship opportunities are now available!
Please see the form for details on how to sign up to golf with us and how to be a sponsor.
Please contact Cindy Epstein at cindy.epstein@hhinc.org with any questions.
Thank you and we look forward to you being a part of this year's event!