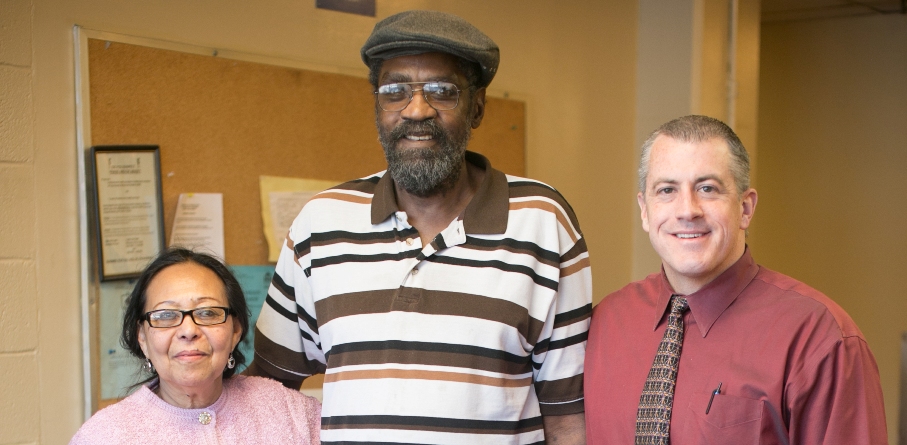 At Horizon House, our community-based treatment services incorporate a variety of customized needs-based services to support people living with ongoing mental illness. Our approach to an individual's recovery is comprised of three elements; treatment planning and services to manage and reduce symptoms, rehabilitation activities to improve life skills for living, working, and learning in the community, and design and coordination of community supports. By integrating treatment and rehabilitation, recovery is possible; recovery that can provide an individual with a sense of meaning to life, a positive self-image, an ability to establish meaningful relationships, and the capacity to live independently.
Assertive Community Treatment
Assertive Community Treatment (ACT) is an evidenced-based recovery model designed to provide treatment, rehabilitation, and support services to individuals diagnosed with a serious and persistent mental illness whose needs have not been met by more traditional mental health services. Our ACT teams are interdisciplinary and include specialists in the areas of psychiatry, mental health, drug and alcohol, vocational training, housing, and nursing. Services are designed to increase individual success and satisfaction with employment, education, and living environments. Services are provided 24/7, 365 days/year.
Locations: PA: Philadelphia, Delaware, Montgomery, and Lehigh Counties  DE: New Castle and Sussex Counties
Additional Information: PA: Philadelphia County: phone, 215-386-3838, ext. 12220; Delaware County: phone, 610-328-2165, ext. 123; Montgomery and Lehigh Counties: phone, 610-279-5050, ext. 139; DE: New Castle County: phone, 302-655-7108, ext. 112, Sussex County: phone, 302-956-0746, ext. 111
Community Outreach, Recovery, & Empowerment (CORE)
Community Outreach Recovery & Empowerment (CORE) is designed to assist individuals with long histories of serious mental illness achieve and maintain stability while minimizing their use of emergency behavioral health systems. CORE provides case management and treatment services. Treatment services include psychiatric services, individual and group outpatient therapy, self-help groups, medication management, and skill building.
Location: PA: Philadelphia County
Additional information: Call CORE, phone: 215-386-3838, ext. 12667
Case Management
Case management assists adults with severe and persistent mental illness by coordinating services and community resources tailored to meet their individual needs. Individuals identify meaningful goals that promote health, wellness, and recovery that lead to increased self-sufficiency. The level and frequency of services are based on the individual's needs.
Location: PA: Philadelphia County, DE: New Castle County
Additional Information: PA: Referrals are received through the Targeted Case Management Unit of Philadelphia's Department of Behavioral Health and Intellectual DisAbility Services, phone: 215-599-2150. DE: Referrals are received through the Eligibility and Enrollment Unit of the State of Delaware's Division of Substance Abuse and Mental Health, phone: 302-255-9458.