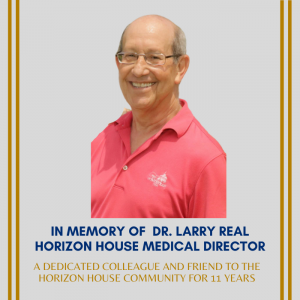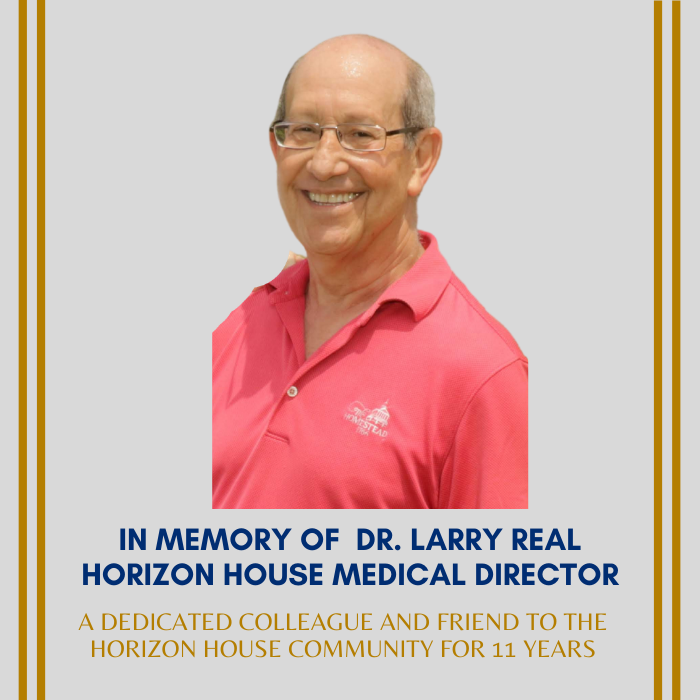 Horizon House is saddened to announce the passing of our esteemed colleague and friend, Dr. Larry Real. A giant here at Horizon House with a heart for helping and serving our participants, Larry passed away on March 25 following a brave battle with cancer.
For over a decade, Larry served Horizon House in many ways. He originally came to us in 2009 when he was the first psychiatrist named to our Board of Directors. Shortly after, in 2010, he joined us full-time as our Medical Director, a role perfectly suited for his warm spirit as he was able to leave a profound impact on our participants by helping them live better lives. He used his unique abilities to drive his belief that recovery is achievable for all.
Larry joined the city of Philadelphia's Department of Behavioral Health & Intellectual Disability Services as its Chief Medical Officer in 2015, but came back to Horizon House in 2018 to resume his role as Medical Director. In addition to returning to Horizon House, Larry also served as the Co-Director of the Fellowship in Public Psychiatry program at the University of Pennsylvania.
"Larry's commitment to Horizon House, and especially to those we serve, is an example of the compassion and opportunities that we aspire to provide to all," said Horizon House President and CEO Jeff Wilush. "He was a leader in his field and also here at Horizon House, and someone we looked to for his steady leadership. Larry's presence and guidance will truly be missed throughout our entire agency. Our heartfelt condolences go out to his family, friends and the participants whose lives he touched over the many years he served us."
Recognized by his colleagues and peers with numerous awards throughout his medical career, Larry is survived by his son Daniel, his son Michael (Aviva Isenberg), his brother Dr. Mark Real (Karen), his brother Hal (Anne Sheppard) and his partner over the last 10 years, Madeleine Gardberg.
In lieu of flowers, contributions in Larry's memory may be made to Horizon House (please click for more information on how to donate) or World Cafe Live's education programs (click here for more information).
Thank you for sharing your talents and life with all of us, Larry. Your spirit will live on forever here at Horizon House. You will be missed!