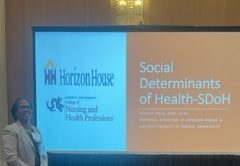 We are extremely proud to share that Horizon House's own Marcie, our Regional Director for Behavioral Health Services, presented a workshop in front of 350 attendees at the recent Direct Support Professionals Conference, hosted by The Philadelphia Alliance of Community Services Providers.
Marcie's workshop, entitled Social Determinants of Health (SDoH) 101: Learning How to Connect the Dots, focused on identifying and addressing Social Determinants of Health (SDoH) that impact those within the Serious Mental Illness (SMI) community at a higher rate. During the workshop, Marcie focused on informing attendees how to increase service outcomes by incorporating SDoH screening tools in their Intake process, so staff can develop robust recovery plans.
Marcie is a longtime member of the Horizon House family who has made an impact on both our organization and our participants over the years. Not only does she have a wealth of knowledge, but she also has a tremendous spirit for service.
Great job, Marcie!