Linda Washington-Brown
Vice President, Developmental Services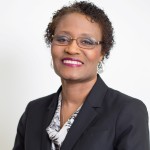 Linda Washington-Brown has been with Horizon House for more than three decades. Right out of college, Linda sought a job in which she could help people and "support others in the achievement of their goals and aspirations." She says she "was lucky enough to find a career in an agency that cares for a vast variety of people with an array of services and support."
Beginning as a Resident Advisor at Horizon House in 1984, Linda has risen to the position of Vice President for Developmental Services. In this role, she oversees Intellectual and Developmental Disability Services, including co-occurring Mental Health Services, and is involved in supporting a variety of residential settings, clinical and medication management, behavioral support, individual and group therapy, employment services, and more.
During her tenure, Linda has observed how services for people with developmental disabilities have undergone a nationwide transformation, evolving from institutional dependency to community living. Linda has built a reputation for tailoring services to each person's unique needs and desires, as well as for helping individuals succeed in living as independently as possible within their chosen communities. She believes that "human-service not-for-profit agencies like Horizon House offer work that provides meaningful outcomes for individuals and families."
In addition to the leadership and human service experience she brings to her position as VP of Developmental Services at the agency, Linda is also the Vice Chair of the Pennsylvania Traumatic Brain Injury (TBI) Advisory Board, which provides advice and expertise to the Pennsylvania Department of Health in determining the service and support needs of individuals with TBI. In addition, she is a member of the American Association on Intellectual and Developmental Disabilities.
Linda was one of the first recipients of the Horizon House Wayne R. Chiodo Leadership Award in 2010. She earned her B.A. from Temple University and her M.B.A. from Eastern University.